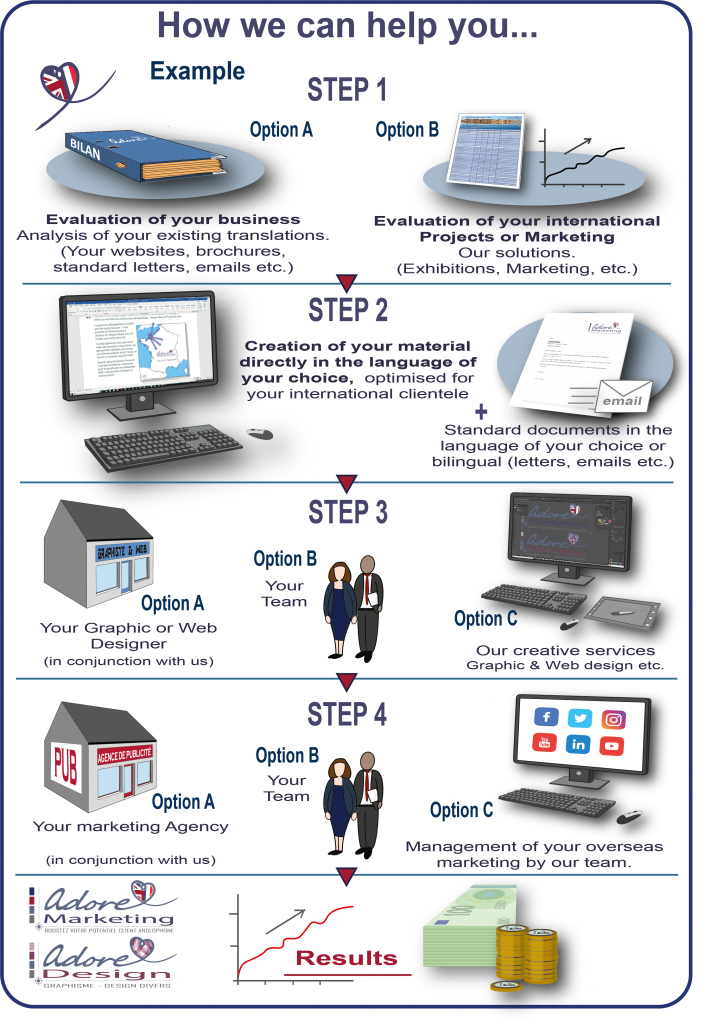 A study in 2017 showed that 64% of hotels in St Malo had serious errors in their English translations.
Our services can help you to avoid the dangers of literal translation with a culturally correct interpretation – French to English or vice versa.
With our help you can: 
Dramatically increase your turnover.
Take advantage of new international markets.
Get ahead of your competitors.
Improve and increase the image of your business.
"The creation of your marketing material directly into English or French, without grammatical errors, which corresponds with your clientele, your market and your budget!"
We offer :
A study of your current marketing strategy and its evolution.
A realistic quotation which suits to your budget
A detailed estimate.
Complete confidentiality.
De travailler avec vos partenaires de communications. (Graphiste, webmaster, agence de publicité)
To work with your own marketing providers (Graphic and web designers, Advertising Agencies etc).
Exhibition management.
Project management.
Your marketing overseas and on social media.
Creation of your business image.
A full graphic design service.
Printing services
Negotiations with your overseas clients or suppliers.
etc.
Areas of expertise
• Import-Export
• Manufacturing
• Tourism
• Hospitality
• Catering
• Marine Industry
• Engineering
• Technology
• Estate Agency
• Exhibitions

International Markets
UK Market
French Market